Cellphones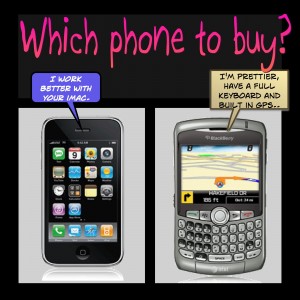 I hate spending money on technology I don't favor, like phones. I hate phones but I find them to be a necessity because pay phones are hard to come by in Southern California. I actually don't think pay phones exist anymore. I haven't seen one in ages.
My Motorola phone has served me well these last four years. I really hate to part with it because I get attached to things after using them for lengthy periods but my phone no longer satisfies my needs. I need something to keep up with my contacts, my calendar, and has GPS. I don't necessarily need music or movies, but I do need to be able to listen to audio files.
Here's the catch, I know I won't have any compatibility issues with my iMac if I get the iPhone because Apple designs all gizmos and gadgets to work together. If I get the BlackBerry, I may run into some compatibility issues with my iMac. I tend to dislike things that aren't compatible with my computer.
I'm also trying to figure out how much my monthly bill would be. I really want to spend $100/month on a phone bill for a phone I rarely use at the moment, but I do recognize my phone use will change now that I'm trying to build a business. I don't plan on cold calling anyone, but I will need to keep in touch with people I meet (more for social purposes than business).
I think I'm going to start with the Motorola Razr I've had for the last two years. I purchased it for $20 with my current phone plan but never used it because I'm still using my old phone. I just have to go to AT&T to see if there's anything I need to do to turn it on.
My cousin is absolutely amazed at how phone illiterate I am considering how much I love gadgets. Well, I attribute my computer literacy to the fact that use my computer for all my communication needs. It's my phone, my tv, and really, who needs a phone when you can video chat, for FREE!