Spec scripts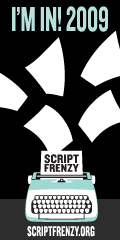 I've been trying to figure out what ABC show I should spec for. So far, two of the shows I was considering (Eli Stone and Pushing Daisies) have been cancelled. Now, I only have a few shows to choose from and there's no telling if the shows will be on next year.
So now that Eli Stone and Pushing Daisies are out of the run, I have Samantha Who? Ugly Betty, Grey's Anatomy, Private Practice, and Lost to write a script for. My choices aren't exactly my first pick. I really don't want to write for any of these shows. I considered Samantha Who? but thought it would be too easy. I want a challenge but I have to consider my strengths and I think a comedy is right up my alley.
I don't know what to do. Part of me says, screw it, and write my own series. That's what I should do. However, the writing fellowship says to write a script for a show that is still on the air. Again, the shows that are on today, might not be on next season.
Anyway, I have a couple of weeks before Script Frenzy starts. I've been wanting to participate with Script Frenzy for a while now.
I just saw a commercial for the new show, Castle. I hope it's good. It's a potential show to write for. Hopefully it will last beyond one season.