Purple veggies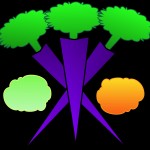 I remember when I was in college around this time of the year and the devastation I felt when I learned corned beef and cabbage wasn't Soul Food.
I kind of felt that same way today when I learned about purple carrots. You see, I love carrots and I've always known them to be orange. But apparently I and everyone else in the western world have been duped. Carrots first came in white, yellow, red, and purple. The orange carrots were developed by the Dutch.
I had no idea purple carrots existed until today when a coworker mentioned having purple carrots in Pakistan.
I also didn't know cauliflower came in lime green, yellow, orange and purple! I almost gave birth to a whale when I saw cauliflower in such beautiful colors. So far, the only difference I read about the varieties is the color. They all pretty much taste the same, but the colors do have different health benefits. Ha! I can't wait to try some of these new veggies-if I can find them. I will probably have to grow my own veggies.
Anyway, I just wanted to post something about my favorite vegetables. I need to go to bed. I have a long day tomorrow.