I have an iPhone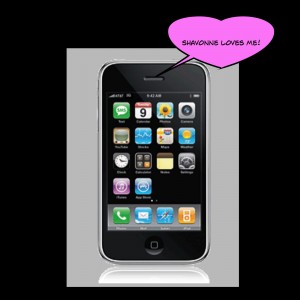 I bought my iPhone today. I tried to wait until June but I just couldn't. I like gadgets and it's been several months since I bought anything new.
I texted my cousin V and told her about my phone. She couldn't believe I bought one because I don't like phones. However, I've discovered Twitter and now I get it. Short and sweet and just my kind of communication. I've been twittering all day. LOL.
Anyway I added a business line to my phone. So now I have three phone numbers I can be reached at. I have a bunch of books I need to purchase in the next few months, all business related. I've got a bunch of free books coming my way. I can't wait to get them. I went by a local cafe and inquired about renting the conference room for a couple hours a month. $75 for the first hour and $25 for every hour after. It sure beats renting a conference room for $200+.
Anyways. I'm strapped for cash right now. My tax refund isn't as big as I thought it was going to be. Dang. I also have to fix this rental property.
As far as my schedule goes, it completely slipped my mind that I have an appointment to get my bush lasered which conflicts with my Toastmasters. Dang, dang, dang.
I watched The Secret this weekend. It was wonderful. I liked it so much I bought the book. Everything The Secret says can been seen in the philosophies of very successful people. I'm going to put The Secret to the test.
First things first. Think only positive thoughts.
I run a successful business.
I receive checks in the mail.
I am a great leader.
I own a beautiful home.
I have a wonderful husband and three beautiful children.
I drive a Ford Fusion hybrid.
I make $250,000 a year.
I have great sex.
I am in good health.
I write oscar-winning screenplays.
Those are just my top 10. I'm not sure if I need to have great sex. Hmmm. What do you think? Have you read The Secret?