Ritzy Reptile and Pumpkin Spice Jamicure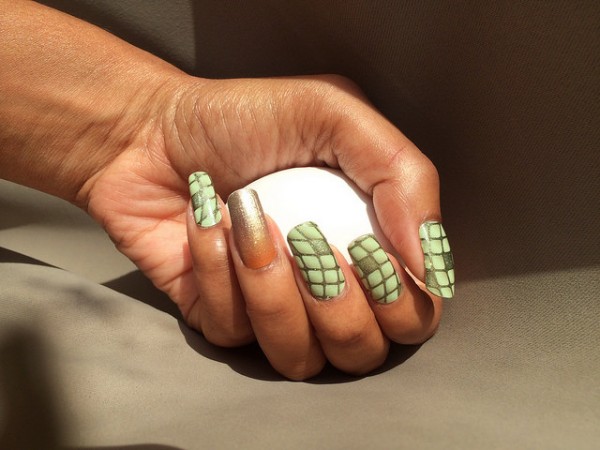 I'm totally in love with the Jamberry Nail Wraps. This is the best thing to happen to my manicures. For the longest time, I completely stopped painting my nails because the polish would start chipping after a few days.
For my latest manicure or jamicure (Jamberry manicure), I chose Ritzy Reptile and Pumpkin Spice. I have been obsessing for the past few days over finding a wrap that would pair well with Ritzy Reptile as an accent nail. The sparkles in Ritzy Reptile have more of a gold sparkle and I didn't have the Gold Sparkle wrap and the wraps that I have that have a gold sparkle were too gold.
The sparkle in Pumpkin Spice is the closest to the sparkle in Ritzy Reptile. The more I look at the pairing, the more I like it. Pumpkin Spice is actually a beautiful wrap and it looks a little subdued because of my complexion. I'm liking it even more than the Ritzy Reptile. LOL
I was going to use the Chameleonaire nail wrap for my next jamicure but I'm over my reptilian obsession. Isn't it pretty?
I think I'm going to use Zebra Debra with Veiled as my accent nail. I haven't seen any pictures on Instagram with long nails use this wrap yet.
My manicures last me two weeks just like the Jamberry Company claims so it will be a while before I give myself another manicure. That picture doesn't do the beautiful purple tiger print any justice. It's so much prettier in person.
If you want to see more Jamberry Nails has to offer follow the link below.